Friends pop-up: From Central Perk to Joey and Chandler's apartment, inside the New York exhibition
t's been 25 years since Friends first aired, on September 22, 1994, and fans still haven't let go of that fantasy world. Friends is, after all, the franchise that prompted Netflix to pay a rumoured $100m in order to keep it on its catalogue for at least another year. Now, a pop-up devoted to the show has opened in New York City to mark the anniversary of the show's premiere.
Tucked away in Soho, the exhibition advertises an immersive experience with set recreations, photo opportunities, and even a trip to the iconic Central Perk – such tantalising promises that tickets for the pop-up sold out within three hours. We checked it out just a few hours before its opening.
It all begins with a giant photo of the cast in the show's early days. "Twenty-five years ago, we met six vibrant 20-somethings whose lives and loves were intimately entwined," a nearby sign reads. "... For 10 seasons they welcomed us into their world. Welcome back. Take a seat on the couch. You're among Friends." Cheesy, yes, but also cute. Then, there's a reproduction of an early ticket to a taping of Friends Like Us, the show's original working title, which transports us back to May 1994 when the pilot was shot, and just like that, we're off.
What follows is the first of several displays acknowledging and celebrating the show's culture. It's a large wall celebrating the best known "Friends-isms", which is to say, those words and phrases that immediately transport you back to specific plotlines on the series ("She's your lobster", "We were on a break", "This is all a moo point", "Transponster", and the list goes on). Visitors then continue one to a pair of orange couches, on which multicoloured umbrellas are resting – an invitation to sit down and have fun recreating the show's opening credits. It's a touch gimmicky, but this is the Instagram age, after all.
The next corner is where things get really interesting. Here, fans are greeted with more than 50 original props from the show, all preserved under glass cases. There's Ross's Science Boy comic – the one Phoebe saved after mugging him on the street when they were both children. There's Rachel's sonogram from when she got pregnant with Emma, as well as her infamously long "let's get back together" letter to Ross, which he pretends to have read in season four. There's Ross's Spudnik helmet, which he wears in a Halloween episode in season eight. There's the outfit he wears on that ill-fated season-five date, when he removes his leather pants in the bathroom and can't pull them back up. There's the Geller cup, that troll-like contraption Ross and Monica fight over in season three. There's the red sweater that dramatically reveals the identity of Rachel's baby's father in season eight. There's Monica's chef outfit and the giant sunglasses she dons after stuffing her head inside a turkey to appease Chandler. There's Chandler's hypnosis tape, which he uses in an attempt to quit smoking, as well as the "best bud bracelet" Joey gives Chandler in season two. It's great to see it all in one place and to be reminded of the many moments that have helped turned a simple sitcom into a worldwide phenomenon. On the walls, signs remind viewers of each character's evolution throughout the series, as well as the history of some of the series's most emblematic pairings (Ross and Rachel, Joey and Chandler). A handy chart also traces each character's romantic relationships, joining two separate lines into one to mark Chandler and Monica's marriage as well as Ross and Rachel's bouts of dating.
The 8,500-square-foot exhibit space also includes set replicas, meaning you can peek through the iconic purple door, complete with a golden frame around the peephole, relax on the Central Perk sofa, or sit in a recliner at the centre of Joey and Chandler's living room. Those replicas are a mix of reproductions – the reclining chairs, for example, are not originals – and actual props – such as Hugsy, Joey's cherished stuffed penguin - displayed inside a glass case. Sure, it would be even more impressive to walk among the show's actual set, but there are enough real elements for the experience to feel satisfying.
There is, in fact, an actual coffee counter where visitors can order drinks and pastries, some of which were inspired by specific episodes. For example, Ross's "mini blueberry bribe muffin basket" calls to mind the season five episodes in which he tries to lay a claim on his neighbour's soon-to-be-vacated apartment thanks to the power of baked goods, while Rachel's "oops I dropped the cheesecake" refers to the season seven episode in which she and Chandler eat a couple of stolen cheesecakes after a delivery error.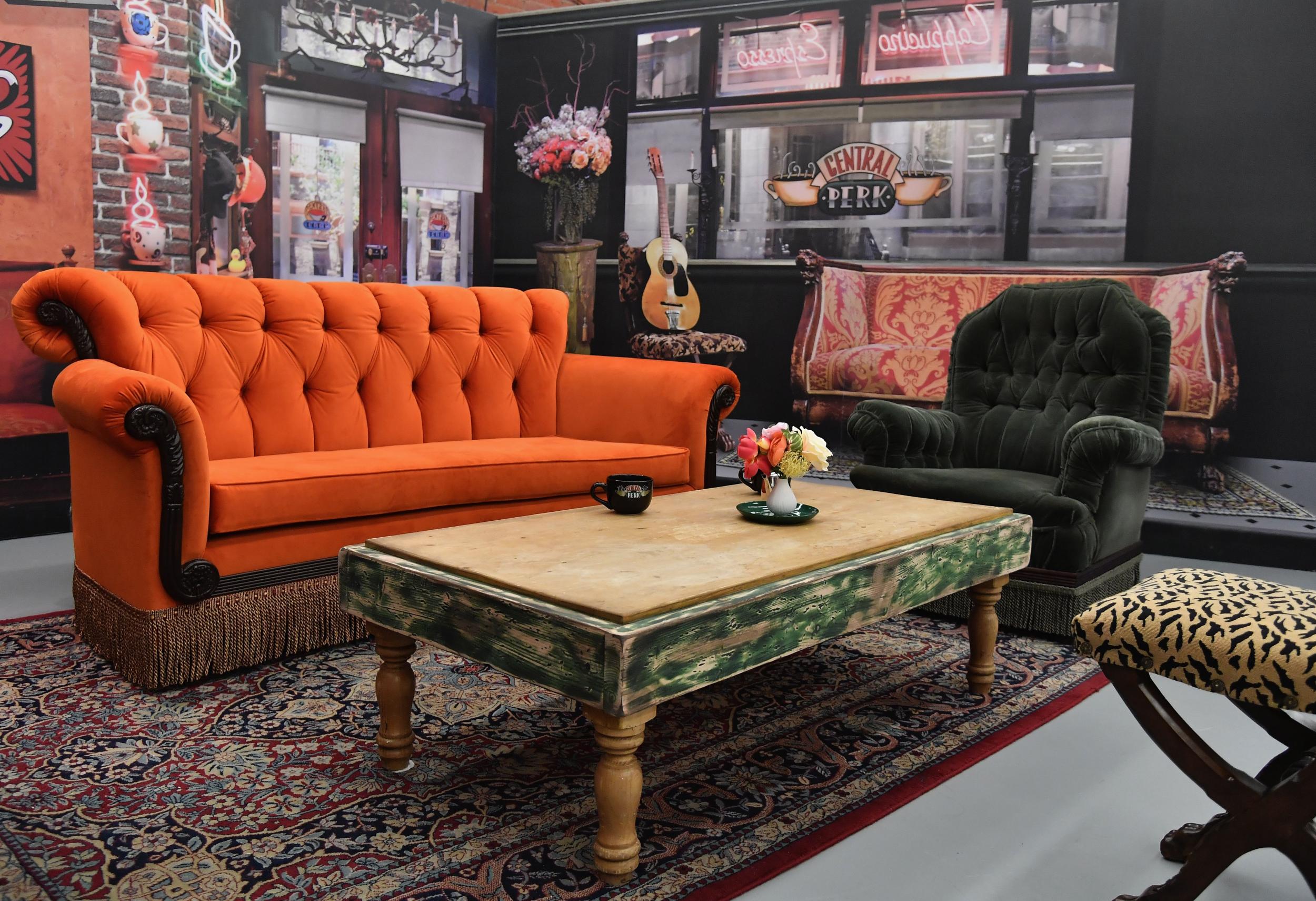 A display at the Friends pop-up recreates the show's iconic Central Perk coffee shop. (ANGELA WEISS/AFP/Getty Images)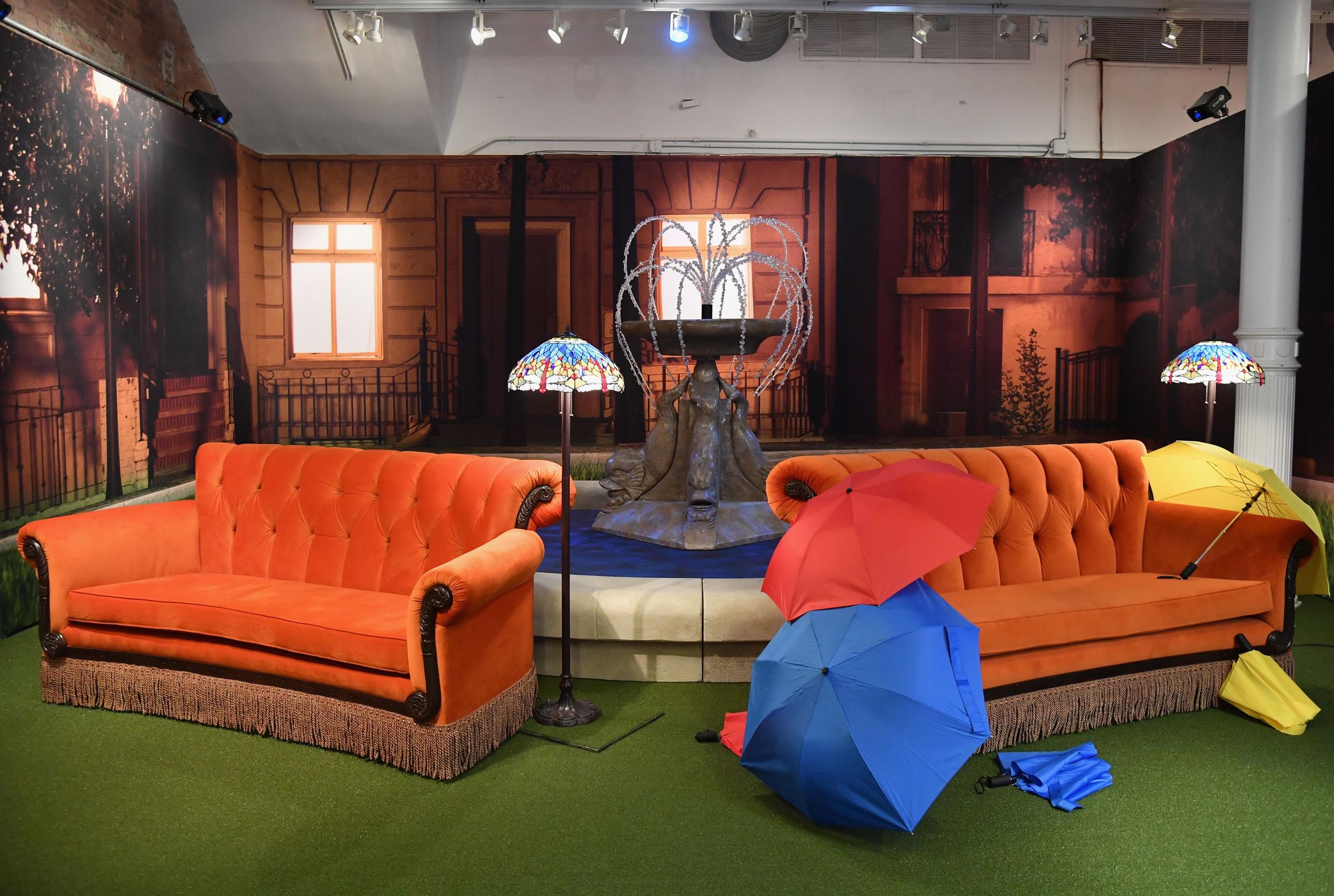 It all ends, naturally, with a souvenir shop where fans can procure themed merchandise, and the range includes pretty much everything from T-shirts to Christmas ornaments and oven mitts. You can visit the store even if you haven't scored a ticket to the exhibit, by the way, via a separate entrance on Broadway. But the most interesting part of the pop-up remains inside, somewhere between Rachel's beloved seashell lamp and Joey's Soapie trophy. That's where you're transported back to the time you watched Friends for the first time, be that in your childhood or your adolescence. That's where you remember why you keep enjoying that show despite mounting evidence that it was anything but perfect. That's where the nostalgia lies.
---